It Could Happen Here by Jonathan Greenblatt
It's almost impossible to imagine that unbridled hate and systematic violence could come for us or our families. But it has happened in our lifetimes in Europe, the Middle East, Africa, and Asia.
And it could happen here.
In this urgent book, Jonathan Greenblatt, CEO of the storied ADL (the Anti-Defamation League), sounds an alarm, warning that this age-old trend is gathering momentum in the United States — and that violence on a more catastrophic scale could be just around the corner.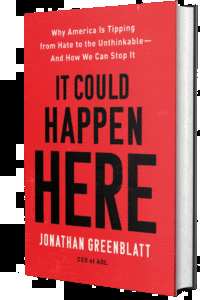 But it doesn't have to be this way. Greenblatt offers a bracing primer on how we — as individuals, as organizations, and as a society — can strike back against hate.
"Refreshingly candid… Get off Instagram and read this book."— Sacha Baron Cohen
Purchase Here
Praise

for It Could Happen Here
Jonathan Greenblatt and I have two things in common: a love of storytelling and a strong belief that social media has dangerously amplified bigotry, misogyny, and conspiracy theories. In this refreshingly candid read, Jonathan is not afraid to call out leaders of tech companies like Facebook and Twitter to be more accountable for their role in spreading hatred. Get off Instagram and read this book.

Sacha Baron Cohen

In this moment, when stubborn, ugly hatreds have again reared their heads, Jonathan Greenblatt offers a superb, clear-eyed snapshot of what is unfolding and why. Even more importantly, he leaves the reader feeling not helpless, but emboldened—helping us see all the ways we can each be a 'story of courage.' His suggestions are concrete, smart, and galvanizing. His writing is compelling. This book is not just the alarm we need but also a bracing call to action.

Abigail Pogrebin
Author of My Jewish Year: 18 Holidays; One Wondering Jew

Jonathan Greenblatt has written an urgent work of deep love and deep anxiety — for the Jewish people, for America, for the state of Israel . . . It Could Happen Here will help shape the conversation on antisemitism and hate in America.

Yossi Klein Halevi
Senior Fellow, Shalom Hartman Institute, and author of Letters to My Palestinian Neighbor
It Could Happen Here is an indictment of antisemitism on both the left and the right. Jonathan Greenblatt explains his journey and our predicament, and offers a crucial road map for an age of resurgent hate. Rabbi David Wolpe
Sinai Temple, Los Angeles

It is easy to think that the Holocaust will never happen again. Sadly, we cannot be so sure. This is why ADL was created: to prevent future atrocities. In this powerful book, Jonathan Greenblatt offers a sobering reminder and at the same time provides clear ideas on how we can work together to create belonging, offer hope, and change the future. This is a must read for anyone working for social change.

Sonal Shah
President, The Asian American Foundation

There has never been a more perilous time for individual rights and liberties... Greenblatt offers his piercing insights from multiple perches he's served in—from the White House to the ADL. We must act now, heed his advice, and fight for what's right.

Anthony Romero
Executive Director, ACLU
It Could Happen Here describes the insidious ways that unchecked hate can seep into society from the periphery, growing from the seeds of fringe thought into harmful rhetoric and heinous actions. Greenblatt has written a playbook against hate that shows just how fragile the balance between calm and chaos can be when we turn a blind eye. We should heed the warning. Darren Walker
President, Ford Foundation

Purpose-driven business leaders are taking a stand against the rise of hate at home and around the world. As CEO of ADL, an institution that has been at the forefront of the fight against antisemitism, racism, and all forms of intolerance, Jonathan Greenblatt has a vision for how companies — and their CEOs — can act responsibly and pragmatically for our collective future. This book lays out the how and why.

Shamina Singh
Founder & President, Mastercard Center for Inclusive Growth

Jonathan Greenblatt has channeled his unique combination of entrepreneurship and public service experience into a new vision for ADL. He does the same in this page-turning book, which weaves beautiful stories with practical advice on how to fight hate. An urgent book for an urgent time.

Daniel Lubetzky
Founder and Executive Chairman, KIND Snacks

In this pivotal moment of American history, Jonathan Greenblatt has written a vital book. It is at once a primer on the various extremisms of our era, and a guide to how to build a healthy, diverse democracy. This book is essential reading.

Eboo Patel
Founder and President, Interfaith Youth Core, and author of Acts of Faith and We Need to Build

Greenblatt offers compelling and empowering solutions to work against the dangers of the hate spreading every day in our country. With something to offer individuals from all backgrounds, this book aims to not only educate and inform, but also to inspire current and future generations to be and do better for one another.

Sheila Katz
CEO, National Council of Jewish Women
In It Can Happen Here, Jonathan Greenblatt provides an essential manual for combatting hate that is based on a century of ADL experience fighting antisemitism. This book is a must read. Roger McNamee
New York Times best-selling author of Zucked: Waking Up to the Facebook Catastrophe
Jonathan Greenblatt has demonstrated prophetic leadership with this book. It Could Happen Here manages to be both inspiring and actionable, illustrating how people from all faiths can combat the specter of intolerance that ultimately threatens all people. Imam Abdullah Antepli
Associate Professor, Duke University

Jonathan Greenblatt offers an insightful perspective on the forces tearing the nation's social fabric and shows how it can be mended.

Dani Dayan
Chairman, Yad Vashem

We may think the battle against hate is unwinnable, but Jonathan Greenblatt gives us courage to enter the fray and provides tools, lessons and experiences to support us in our confrontation with this age-old menace.

Rabbi Peter J. Rubinstein
Director of Jewish Community and Bronfman Center for Jewish Life, 92Y

It talks about the responsibility of leaders to call out hate… I encourage people to pick it up.

Jonathan Lemire
White House Bureau Chief, Politico and NBC News analyst

Jonathan, thanks for writing this book....Those are such important points and I am so glad you wrote this really important book.

Wolf Blitzer
Host of CNN's The Situation Room

There is incredible story telling in the book that does bring this conversation into how do we fix it?

Nicole Wallace
Host of MSNBC's Deadline: White House

Quite a warning.

Yasmin Vossoughian
Host of MSNBC's Yasmin Vossoughian Reports
Discussion Guide
It Could Happen Here is an excellent choice for book clubs and discussion groups. The thought provoking title and content provide a breadth of topics for in-depth discussions. It Could Happen Here discussion guide offers a series of questions and facilitator notes.